November 27
Now may the God of peace Himself sanctify you entirely; and may your spirit and soul and body be preserved complete, without blame at the coming of our Lord Jesus Christ. Faithful is He who calls you, and He also will bring it to pass. - 1 Thessalonians 5:23-24
The human spirit enables God-consciousness, the soul self-consciousness, and the body world-consciousness. However, God's design is for us to function as whole beings, not fragmented. Sin shatters the wholeness. Paul's lament in Romans 7 and Galatians 4 is the warfare this fragmentation produces between the "flesh" and the "spirit." Christ's salvation restores wholeness to the human being. He does the work, and brings it to fruition. Through Christ, we are brought back to God's perfect design.
Click here to sign up for your free Winning Walk newsletter!
OUR THANK YOU TO YOU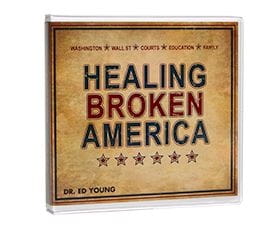 Be a Part of the Healing of Broken America!
A quick glance at the nightly news, the newspaper, or the Internet reveals that we are experiencing one crisis after another. Washington is broken, Wall Street is broken, the
courts are broken, the schools are broken. Even the
family
is broken!
In his 6-message CD series,
Healing Broken America
, Dr. Ed Young addresses head-on the major areas in our country that must change if we are to see our nation restored. He clearly defines the five areas where America is broken, and then offers common sense, biblically-based remedies for healing those wounded areas. Learn how to be part of the solution for America.