November 29
And my God will supply all your needs according to His riches in glory in Christ Jesus. - Philippians 4:19
God always knows the true needs of His covenant people. At one the Hebrews in the wilderness thought they needed the onions, leeks and garlic of Egypt, but God knew they needed manna. They fretted over new shoes for the rugged Sinai, but God knew they needed their old ones to stay new. The people murmured that they needed water when all they could see was rocks, but God knew they needed the water in the rock. We can trust God to supply our needs, not our preferences or the misguided wishes we bring with us from the land that enslaved us.
Click here to sign up for your free Winning Walk newsletter!
OUR THANK YOU TO YOU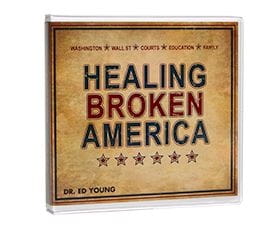 Be a Part of the Healing of Broken America!
A quick glance at the nightly news, the newspaper, or the Internet reveals that we are experiencing one crisis after another. Washington is broken, Wall Street is broken, the
courts are broken, the schools are broken. Even the
family
is broken!
In his 6-message CD series,
Healing Broken America
, Dr. Ed Young addresses head-on the major areas in our country that must change if we are to see our nation restored. He clearly defines the five areas where America is broken, and then offers common sense, biblically-based remedies for healing those wounded areas. Learn how to be part of the solution for America.