November 3
Do not be afraid of sudden fear Nor of the onslaught of the wicked when it comes; For the LORD will be your confidence And will keep your foot from being caught. - Proverbs 3:25-26
Drum Castle, near Aberdeen, Scotland, has been restored to striking handsomeness. Outside are rich gardens of winding shrubs. It's pleasant on a Scottish spring day to stroll in the greenery. Many see life like that. They ease through the garden, when suddenly there's the onslaught of the enemy, jumping from behind the shrubs. A terrifying phone call, squadrons of criticism and looming defeat come seemingly from nowhere. God's promise to His covenant people is that if they will maintain their faith-grip on His faithfulness even in the suddenness of the ambush, they can face it with confidence.
Click here to sign up for your free Winning Walk newsletter!
OUR THANK YOU TO YOU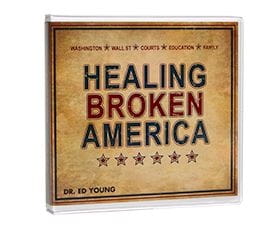 Be a Part of the Healing of Broken America!
A quick glance at the nightly news, the newspaper, or the Internet reveals that we are experiencing one crisis after another. Washington is broken, Wall Street is broken, the
courts are broken, the schools are broken. Even the
family
is broken!
In his 6-message CD series,
Healing Broken America
, Dr. Ed Young addresses head-on the major areas in our country that must change if we are to see our nation restored. He clearly defines the five areas where America is broken, and then offers common sense, biblically-based remedies for healing those wounded areas. Learn how to be part of the solution for America.