November 4
"Peace I leave with you; My peace I give to you; not as the world gives do I give to you. Do not let your heart be troubled, nor let it be fearful."
John 14:27
The world's peace is negative, dependent on the absence of conflict. Jesus' peace is positive. He told His followers He hadn't come to bring peace, but a "sword" (Matthew 10:34). His very presence excited opposition and persecution. Yet in the midst of the strife, Jesus' disciples would have His peace. So Stephen dies under the stones of an angry mob, glorifying Jesus as he perishes. 86-year old Polycarp, faithful follower, refuses to deny Jesus, and burns at the stake, declaring his friendship with the Lord. And so it has gone for centuries—people experiencing Christ's peace in the midst of their blood, sweat and tears.
Click here to sign up for your free Winning Walk newsletter!
OUR THANK YOU TO YOU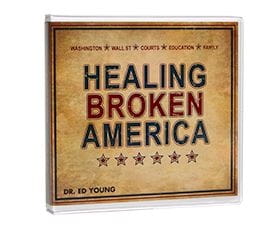 Be a Part of the Healing of Broken America!
A quick glance at the nightly news, the newspaper, or the Internet reveals that we are experiencing one crisis after another. Washington is broken, Wall Street is broken, the
courts are broken, the schools are broken. Even the
family
is broken!
In his 6-message CD series,
Healing Broken America
, Dr. Ed Young addresses head-on the major areas in our country that must change if we are to see our nation restored. He clearly defines the five areas where America is broken, and then offers common sense, biblically-based remedies for healing those wounded areas. Learn how to be part of the solution for America.