November 8
Therefore, having been justified by faith, we have peace with God through our Lord Jesus Christ, through whom also we have obtained our introduction by faith into this grace in which we stand; and we exult in hope of the glory of God. - Romans 5:1-2
Prior to being reconciled—or "made one with"—God, we are at war, "enmity," with Him (Romans 8:7; James 4:4 . When peace is established, war is over. Jesus gives us peace with God, ending our state of enmity against Him. "I've made my peace with God," some say as they contemplate death. But humans don't establish that peace. An armistice in which no one wins is not true peace. Peace comes when there is a victor. Jesus conquered the enmity at the cross, and reconciled us to the Father. We are at peace with Him in Christ.
Click here to sign up for your free Winning Walk newsletter!
OUR THANK YOU TO YOU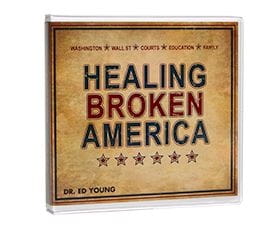 Be a Part of the Healing of Broken America!
A quick glance at the nightly news, the newspaper, or the Internet reveals that we are experiencing one crisis after another. Washington is broken, Wall Street is broken, the
courts are broken, the schools are broken. Even the
family
is broken!
In his 6-message CD series,
Healing Broken America
, Dr. Ed Young addresses head-on the major areas in our country that must change if we are to see our nation restored. He clearly defines the five areas where America is broken, and then offers common sense, biblically-based remedies for healing those wounded areas. Learn how to be part of the solution for America.