October 1
… the joy of the LORD is your strength … Sing for joy to God our strength
Nehemiah 8:10; Psalm 81:1
I grew up in the comic book era. There were no cartoons on TV. In fact, there was no TV in the average home. But the comic books brought us Captain Marvel, Superman, and many more characters, all in lavish color. Almost all the comic books carried the same ad. A skinny fellow lay on a beach while a bully kicked sand at him. A year later, the runt has completed the "Charles Atlas" course, and flattens the bully. Satan bullies us constantly, humiliating and harassing us. But in God's joy, we rise up in new strength, and put the bully to flight.
Click here to sign up for your free Winning Walk newsletter!
---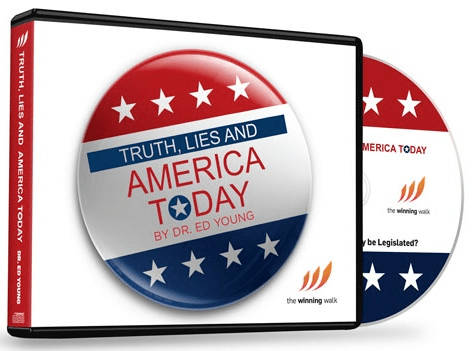 We've been told lies as a society, and many of us – even believers – have come to accept them as truth.
 
Dr. Ed Young exposes many of these lies in his 3-message CD series 'Truth, Lies, and America Today.'

You'll hear about steps you can take to:
       •Reestablish God's truth in your home and community
       •Rebuild our nation's moral foundation
       •Restore hope for future generations  

'Truth, Lies, and America Today' is our gift to thank you for your first monthly gift as a Winning Walk Pacesetter.
 
The faithful support of Pacesetters is crucial for helping proclaim proven truth on radio, television, and the internet – so please prayerfully consider becoming a Pacesetter today.
 
When you do, we'll send you 'Truth, Lies, and America Today' to help stand against the lies of our culture with the proven truth of God's Word.
 
We're so grateful for your partnership!