October 10
For Your name's sake You will lead me and guide me. - Psalm 31:3
One of our sons had difficulty riding a bicycle. A buddy learned to ride before he did, so my boy wanted to jump on and catch up with his friend. I worked with him, holding the seat, helping him keep balance, scooting him along. There were minor calamities, with scratches and tears, but I wouldn't leave his side. As we ride through life, sometimes tottering and uncertain, our heavenly Father holds on, picks us up when we fall, cleans us up, forgives us and sets us rolling again. Just because we fall doesn't mean He leaves our side.
Click here to sign up for your free Winning Walk newsletter!
---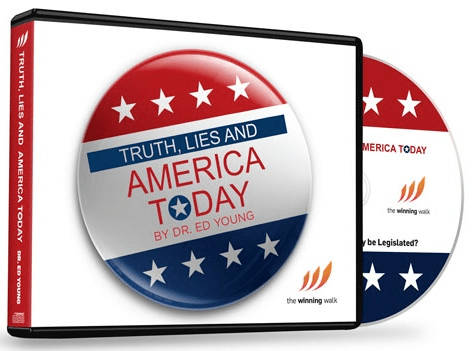 We've been told lies as a society, and many of us – even believers – have come to accept them as truth.
 
Dr. Ed Young exposes many of these lies in his 3-message CD series 'Truth, Lies, and America Today.'

You'll hear about steps you can take to:
       •Reestablish God's truth in your home and community
       •Rebuild our nation's moral foundation
       •Restore hope for future generations  

'Truth, Lies, and America Today' is our gift to thank you for your first monthly gift as a Winning Walk Pacesetter.
 
The faithful support of Pacesetters is crucial for helping proclaim proven truth on radio, television, and the internet – so please prayerfully consider becoming a Pacesetter today.
 
When you do, we'll send you 'Truth, Lies, and America Today' to help stand against the lies of our culture with the proven truth of God's Word.
 
We're so grateful for your partnership!