October 14
"For where two or three have gathered together in My name, I am there in their midst."  - >Matthew 18:20
On the day of His ascension, Jesus' disciples gathered 'round and pressed in on Him. They attended His words with intense concentration. The closer they gathered around the One in their midst, the nearer they go to one another. It is so now. Whenever Christ's people assemble—be it a mere two or three—with Jesus at the center, the more they press in to Him, the closer they get to each other. Jesus is the core of Christian fellowship and community.
Click here to sign up for your free Winning Walk newsletter!
---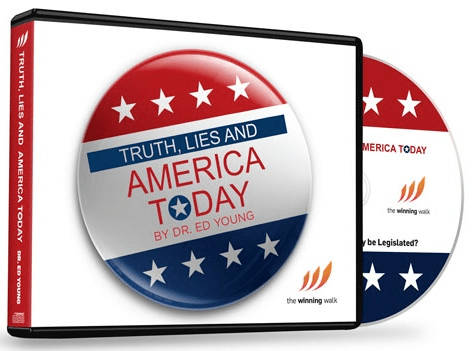 We've been told lies as a society, and many of us – even believers – have come to accept them as truth.
 
Dr. Ed Young exposes many of these lies in his 3-message CD series 'Truth, Lies, and America Today.'

You'll hear about steps you can take to:
       •Reestablish God's truth in your home and community
       •Rebuild our nation's moral foundation
       •Restore hope for future generations  

'Truth, Lies, and America Today' is our gift to thank you for your first monthly gift as a Winning Walk Pacesetter.
 
The faithful support of Pacesetters is crucial for helping proclaim proven truth on radio, television, and the internet – so please prayerfully consider becoming a Pacesetter today.
 
When you do, we'll send you 'Truth, Lies, and America Today' to help stand against the lies of our culture with the proven truth of God's Word.
 
We're so grateful for your partnership!