October 20
The secret of the LORD is for those who fear Him, And He will make them know His covenant. - Psalm 25:14
We don't contemplate the blessing of water until we're thirsty, or the nourishment of bread until hungry. Peter knew the covenant of grace only when his denial of Christ confronted him with his need. Saul of Tarsus didn't see his impoverishment until he was blinded on Damascus Road. God is love, and love wants to be out in the open, not secretive. God brings us to the place we know His promises to us. We screech and scream, and then the tears evaporate when we know what He wants us to know—the depth of His love and the extent of His promises.
Click here to sign up for your free Winning Walk newsletter!
OUR THANK YOU TO YOU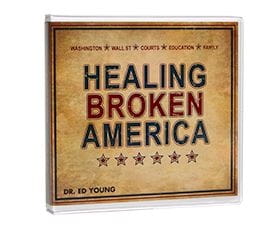 Be a Part of the Healing of Broken America!
A quick glance at the nightly news, the newspaper, or the Internet reveals that we are experiencing one crisis after another. Washington is broken, Wall Street is broken, the
courts are broken, the schools are broken. Even the
family
is broken!
In his 6-message CD series,
Healing Broken America
, Dr. Ed Young addresses head-on the major areas in our country that must change if we are to see our nation restored. He clearly defines the five areas where America is broken, and then offers common sense, biblically-based remedies for healing those wounded areas. Learn how to be part of the solution for America.