October 23
There is no fear in love; but perfect love casts out fear, because fear involves punishment, and the one who fears is not perfected in love. - >1 John 4:18
The "fear of God" negatively is the terror of His punishment. Positively, to fear God is to revere, respect, honor and adore Him as the Most High. One who understands God's perfect love, and whose love for Him is increasingly perfected, does not live in the dread of God's wrath. "Our God is a consuming fire" (Hebrews 12:9). For those who don't understand His perfect love, that fire represents the worst of terrors. But the people who receive the perfection of His love find the fire warming, energizing and overwhelming the darkness.
Click here to sign up for your free Winning Walk newsletter!
---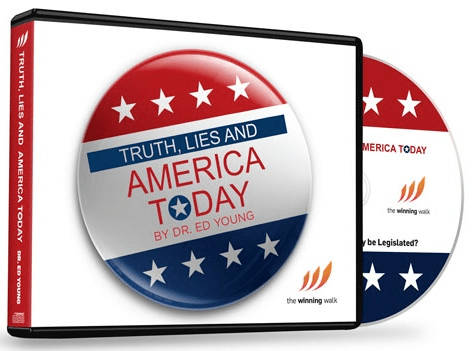 We've been told lies as a society, and many of us – even believers – have come to accept them as truth.
 
Dr. Ed Young exposes many of these lies in his 3-message CD series 'Truth, Lies, and America Today.'

You'll hear about steps you can take to:
       •Reestablish God's truth in your home and community
       •Rebuild our nation's moral foundation
       •Restore hope for future generations  

'Truth, Lies, and America Today' is our gift to thank you for your first monthly gift as a Winning Walk Pacesetter.
 
The faithful support of Pacesetters is crucial for helping proclaim proven truth on radio, television, and the internet – so please prayerfully consider becoming a Pacesetter today.
 
When you do, we'll send you 'Truth, Lies, and America Today' to help stand against the lies of our culture with the proven truth of God's Word.
 
We're so grateful for your partnership!