October 23
There is no fear in love; but perfect love casts out fear, because fear involves punishment, and the one who fears is not perfected in love. - 1 John 4:18
The "fear of God" negatively is the terror of His punishment. Positively, to fear God is to revere, respect, honor and adore Him as the Most High. One who understands God's perfect love, and whose love for Him is increasingly perfected, does not live in the dread of God's wrath. "Our God is a consuming fire" (Hebrews 12:9). For those who don't understand His perfect love, that fire represents the worst of terrors. But the people who receive the perfection of His love find the fire warming, energizing and overwhelming the darkness.
Click here to sign up for your free Winning Walk newsletter!
OUR THANK YOU TO YOU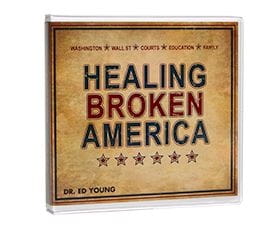 Be a Part of the Healing of Broken America!
A quick glance at the nightly news, the newspaper, or the Internet reveals that we are experiencing one crisis after another. Washington is broken, Wall Street is broken, the
courts are broken, the schools are broken. Even the
family
is broken!
In his 6-message CD series,
Healing Broken America
, Dr. Ed Young addresses head-on the major areas in our country that must change if we are to see our nation restored. He clearly defines the five areas where America is broken, and then offers common sense, biblically-based remedies for healing those wounded areas. Learn how to be part of the solution for America.