October 25
"The steadfast of mind You will keep in perfect peace, Because he trusts in You."
Isaiah 26:3
Some types of anchors are designed with sturdy hooks to dig into a sea bottom, or latch on to a big rock. They halt a boat's drag, caused by wind and waves. The soul needs to be anchored. Paul wrote that we are "tossed" about by winds and waves of differing beliefs (Ephesians 4:14). James describes the doubt that sometimes causes us to be driven on the surf of unbelief, and carried along with whatever wind may be blowing (James 1:6). But faith in God anchors the soul, stops the drift and drag, enabling us to rest, even in stormy seas.
Click here to sign up for your free Winning Walk newsletter!
OUR THANK YOU TO YOU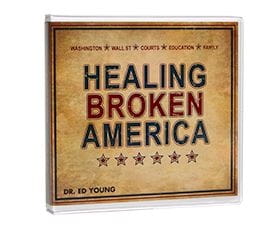 Be a Part of the Healing of Broken America!
A quick glance at the nightly news, the newspaper, or the Internet reveals that we are experiencing one crisis after another. Washington is broken, Wall Street is broken, the
courts are broken, the schools are broken. Even the
family
is broken!
In his 6-message CD series,
Healing Broken America
, Dr. Ed Young addresses head-on the major areas in our country that must change if we are to see our nation restored. He clearly defines the five areas where America is broken, and then offers common sense, biblically-based remedies for healing those wounded areas. Learn how to be part of the solution for America.