October 29
He will remember His covenant forever. - Psalm 111:5
In September, 1938, Hitler assured British Prime Minister Chamberlain that he would limit his conquests to the Sudetenland. In 1939, Hitler signed a non-aggression pact with the Soviets. Hitler broke both agreements, along with many others. But neither was Stalin faithful to his promises. World history is littered with shred paper from pacts and agreements that meant nothing to the signers. But when God enters covenant with us, He never forgets it or violates it.
Click here to sign up for your free Winning Walk newsletter!
OUR THANK YOU TO YOU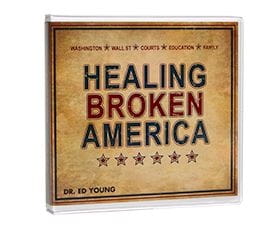 Be a Part of the Healing of Broken America!
A quick glance at the nightly news, the newspaper, or the Internet reveals that we are experiencing one crisis after another. Washington is broken, Wall Street is broken, the
courts are broken, the schools are broken. Even the
family
is broken!
In his 6-message CD series,
Healing Broken America
, Dr. Ed Young addresses head-on the major areas in our country that must change if we are to see our nation restored. He clearly defines the five areas where America is broken, and then offers common sense, biblically-based remedies for healing those wounded areas. Learn how to be part of the solution for America.