October 7
"Take My yoke upon you and learn from Me, for I am gentle and humble in heart, and YOU WILL FIND REST FOR YOUR SOULS.  For My yoke is easy and My burden is light." - Matthew 11:29-30
Many years ago, I was preaching on Christ's yoke. "I wish I had a yoke," I said one Sunday. A farmer rummaged an old yoke from behind his barn, and brought it down the aisle the next week, completely surprising me. I discovered yokes are thick and heavy, and the secret to getting cattle into a yoke is the fit. If a yoke wears well, the oxen don't resist it, and it enables them to stay together, on track. Jesus promises that His yoke is just right for each of us. When we're under the yoke of His Lordship, we rest, knowing we are guided by the Master.
Click here to sign up for your free Winning Walk newsletter!
---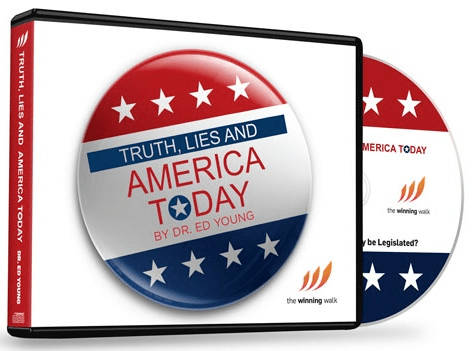 We've been told lies as a society, and many of us – even believers – have come to accept them as truth.
 
Dr. Ed Young exposes many of these lies in his 3-message CD series 'Truth, Lies, and America Today.'

You'll hear about steps you can take to:
       •Reestablish God's truth in your home and community
       •Rebuild our nation's moral foundation
       •Restore hope for future generations  

'Truth, Lies, and America Today' is our gift to thank you for your first monthly gift as a Winning Walk Pacesetter.
 
The faithful support of Pacesetters is crucial for helping proclaim proven truth on radio, television, and the internet – so please prayerfully consider becoming a Pacesetter today.
 
When you do, we'll send you 'Truth, Lies, and America Today' to help stand against the lies of our culture with the proven truth of God's Word.
 
We're so grateful for your partnership!