October 9
"And they overcame him because of the blood of the Lamb and because of the word of their testimony, and they did not love their life even when faced with death." - Revelation 12:11
As a boy, I was a soprano. A teacher even tried to get me on the radio. Then my voice changed, and with it my life—at least that part of it. God promises to build a testimony in His people. Interacting with challenges, engaging with people, experiencing life's tensions as a committed follower of Christ builds the testimony of His faithfulness. Your "voice" will "change," and what you once regarded as magnificent will be seen as the five-watt radio station it really was. Your new voice—your testimony—will lead to overcoming strength which will be broadcast loudly and clearly to others.
Click here to sign up for your free Winning Walk newsletter!
---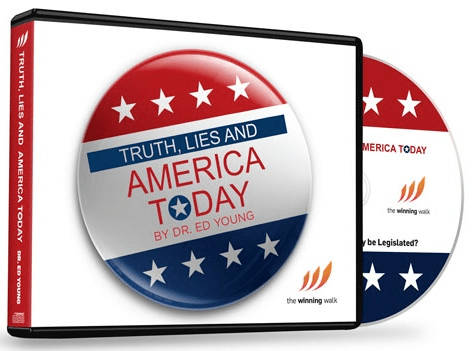 We've been told lies as a society, and many of us – even believers – have come to accept them as truth.
 
Dr. Ed Young exposes many of these lies in his 3-message CD series 'Truth, Lies, and America Today.'

You'll hear about steps you can take to:
       •Reestablish God's truth in your home and community
       •Rebuild our nation's moral foundation
       •Restore hope for future generations  

'Truth, Lies, and America Today' is our gift to thank you for your first monthly gift as a Winning Walk Pacesetter.
 
The faithful support of Pacesetters is crucial for helping proclaim proven truth on radio, television, and the internet – so please prayerfully consider becoming a Pacesetter today.
 
When you do, we'll send you 'Truth, Lies, and America Today' to help stand against the lies of our culture with the proven truth of God's Word.
 
We're so grateful for your partnership!