September 12
Then David said to the Philistine, "You come to me with a sword, a spear, and a javelin, but I come to you in the name of the LORD of hosts … -1 Samuel 17:45
Nations with immense nuclear capabilities must practice restraint. Many press their governments to crush every skirmish with an atom-capped missile. The Lord of hosts could have unleashed 12 legions of angels to rescue Jesus from the cross, but allows the carnage because the world's salvation depends on the completion of the atonement mission. We live in the tension of knowing that God is Lord of hosts, but watching apparent disaster shape around us. We cry for the blasts of the angelic hosts, but finally rest in knowing He has defended us from much worse than what our limited vision can see.
Click here to sign up for your free Winning Walk newsletter!
---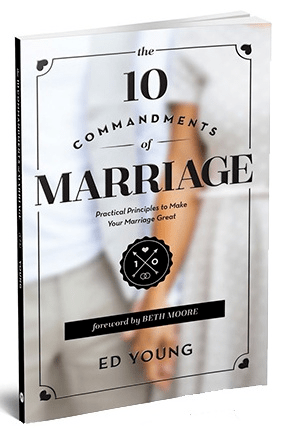 Have a healthy, happy, passionate and fulfilling marriage!
Dr. Young takes a practical, relevant, humorous, and convicting look at marriage in his book, The 10 Commandments of Marriage.
Request your copy of The 10 Commandments of Marriage when you give to share the proven truth of God's Word.
 
May it help you grow your marriage into one that's healthy, happy, passionate and fulfilling!