September 2
Then Gideon built an altar there to the LORD and named it The LORD is Peace. - Judges 6:24
The Lord is our peace. Not family, not possessions. Not world conditions or the political situation. God's covenant child need not be dependent—or co-pendent—on anyone or anything for his or her peace. In fact, when personal peace depends on anything but God, it's fragile as a spider's web. Not that the person in Christ is cold and indifferent. The suffering of others, broken relationships and world troubles stir compassion, prayer and godly deeds. But the individual trusting in Christ places ultimate reliance for the outworking of all things upon God. And they say, "The Lord is my peace."
Click here to sign up for your free Winning Walk newsletter!
OUR THANK YOU TO YOU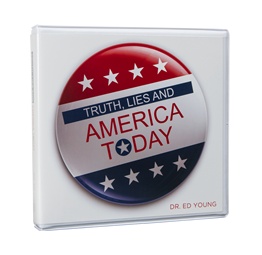 Our Gift to You - Truth, Lies, and America Today CD Series
Truth, Lies, and America Today is a bold and controversial three-message series that lays bare the lies American society has come to accept as truth: lies about morality, the role of the church, the role of government, the sanctity of life, and more. Dr. Ed Young shares the steps all believers can take to reestablish God's truth in their home and community and to rebuild a moral foundation upon which our nation can stand and flourish!