September 5
"I, the LORD, am your healer." -Exodus 15:26
God's covenant people have the promise of a new body in eternity, free of disease, alive with the quality of Christ's resurrection body. When Adam sinned, death moved from spirit to soul to body. Salvation flows the same way. God heals people in the fallen world by direct and indirect means, and supernatural and natural methods, including medical science, which is part of His general revelation. For His covenant people, healing is a certainty, and the only questions are: When will it be manifest? How will it be achieved? Where—in earth or Heaven? Healing is in God's covenant, and all health comes from Him.
Click here to sign up for your free Winning Walk newsletter!
---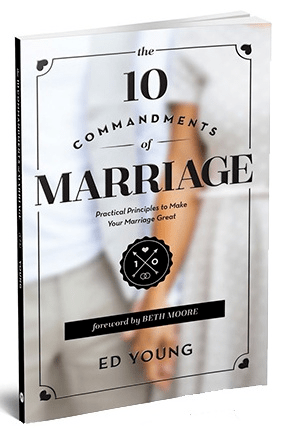 Have a healthy, happy, passionate and fulfilling marriage!
Dr. Young takes a practical, relevant, humorous, and convicting look at marriage in his book, The 10 Commandments of Marriage.
Request your copy of The 10 Commandments of Marriage when you give to share the proven truth of God's Word.
 
May it help you grow your marriage into one that's healthy, happy, passionate and fulfilling!