September 5
"I, the LORD, am your healer."
Exodus 15:26
God's covenant people have the promise of a new body in eternity, free of disease, alive with the quality of Christ's resurrection body. When Adam sinned, death moved from spirit to soul to body. Salvation flows the same way. God heals people in the fallen world by direct and indirect means, and supernatural and natural methods, including medical science, which is part of His general revelation. For His covenant people, healing is a certainty, and the only questions are: When will it be manifest? How will it be achieved? Where—in earth or Heaven? Healing is in God's covenant, and all health comes from Him.
Click here to sign up for your free Winning Walk newsletter!
OUR THANK YOU TO YOU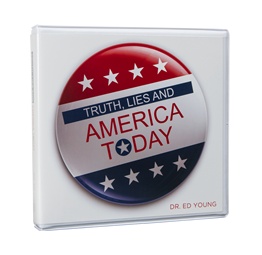 Our Gift to You - Truth, Lies, and America Today CD Series
Truth, Lies, and America Today is a bold and controversial three-message series that lays bare the lies American society has come to accept as truth: lies about morality, the role of the church, the role of government, the sanctity of life, and more. Dr. Ed Young shares the steps all believers can take to reestablish God's truth in their home and community and to rebuild a moral foundation upon which our nation can stand and flourish!