Impatience
by Berni Dymet
Psalm 146:1, 7-8 Praise the Lord! Praise the Lord, O my soul! ... The Lord sets the prisoners free; the Lord opens the eyes of the blind. The Lord lifts up those who are bowed down; the Lord loves the righteous.
I'm a naturally impatient person. I'm someone who thinks quickly, and acts quickly, and walks quickly…..it's the underbelly of an ability to get things done….well, quickly.
I spent half a lifetime being impatient. And it's still something that I have to work at every day. So I'm something of an expert in this field.
And what I can tell you is, it ruins your life. On the one hand, impatience destroys relationships. It does. And on the other, it robs us of peace and joy. It's like a personal prison.
So it really struck me when I read that one of the fruits of a relationship with Jesus is patience…..
And as I've pursued that in my life, just quietly having a relationship with Jesus, praying, and letting Him somehow guide me through the day, what I've discovered, is that day by day, He's setting me free.
He's busy breaking the shackles. But then. I shouldn't be surprised. After all, in His own words…."He came to set the captives free."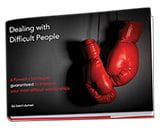 Get a Free eBook from Berni Dymet, Dealing with Difficult People. This timely and relevant eBook contains 6 powerful principles guaranteed to improve your most difficult relationships. And you can download it FREE, right now.