The Fog

by Berni Dymet
James 5:17 Elijah was a human being like us, and he prayed fervently that it might not rain, and for three years and six months it did not rain on the earth.
Not too long ago, we had a function here at Christianityworks to launch my latest book - Unlocking the Power of Prayer. One of our supporters has an office on the 42nd floor of an office tower that looks right down Sydney harbour - the harbour bridge, the Opera House. It's a stunning view on a good day. And he generously allowed us to use his boardroom and foyer to have the event.
But when we arrived about an hour before the event was to start, it was raining so heavily, you couldn't see out the windows. 
He said "Oh well, looks like the rain's set in". I smiled and said, "We have an hour to go". So I prayed - just a quick prayer mind you. By the time the first guest arrived sure enough, we had the view back.
Sometimes, I think we get this idea that we can't go to God with the little things. Hmm - well I think it's time to think again.
No job's too big, no job's too small.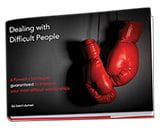 Get a Free eBook from Berni Dymet, Dealing with Difficult People. This timely and relevant eBook contains 6 powerful principles guaranteed to improve your most difficult relationships. And you can download it FREE, right now.