What's Gone Wrong?
by Berni Dymet
Jer. 29:12-14 Then when you call upon me and come and pray to me, I will hear you. When you search for me, you will find me; if you seek me with all your heart, I will let you find me...
So many people, deep in their hearts, desire God. And yet it's as though we've been taught in this fast moving, transactional world in which we live, that it's the norm for us to have a shallow relationship with our Saviour. 
Even in church.
Can I say that sadly I have visited many a church where a mighty longing after God appears to be absent? In the worship - where entertainment abounds, but the flame is missing. In the pulpit - where the words abound, but the glory of God is missing. In the fellowship - where the coffee abounds but the hearts that long mightily after God are missing. 
What's the matter with us? What's gone wrong?
Right now, at this wondrous moment in time, I believe Jesus is speaking through His Spirit and His Word into your heart and mine….
When you seek me with all your heart - then, then you will find me. 
Do you hear Him calling? He's waiting…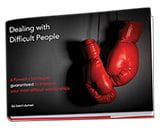 Get a Free eBook from Berni Dymet, Dealing with Difficult People. This timely and relevant eBook contains 6 powerful principles guaranteed to improve your most difficult relationships. And you can download it FREE, right now.