Banish the Negatives 
by Berni Dymet
 
2 Cor.10:5 ...and we take every thought captive to obey Christ.
I'm a pretty positive sort of guy. But you know something -I still have a lot of negative thoughts. In fact recently, I decided to take note of the number of times each day that I'd have a negative thought.
That person's never going to change. We'll never raise the funds to do that. On and on. 
And I was shocked - really shocked - how many times a positive guy like me can think negative thoughts. And when you put it in perspective - each of those negative thoughts is - well, it's an affront to God. It's me saying - "I believe my circumstances more than I believe in God." Let me call it what it is - its sin.
So these days, whenever I feel a negative thought slipping in under my guard, I replace it with what God's saying. "I can do all things in Christ Jesus who strengthens me. If I have faith the size of a mustard seed, nothing, nothing will be impossible for me."
I can't tell you what a difference it's made.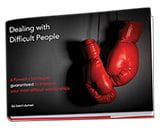 Get a Free eBook from Berni Dymet, Dealing with Difficult People. This timely and relevant eBook contains 6 powerful principles guaranteed to improve your most difficult relationships. And you can download it FREE, right now.