Active Word - Dec. 29

December 29
All authority
And immediately on the Sabbath He entered the synagogue and taught. Mark 1:21 (NKJV)
As Christ's ministry began to go public, He went to a local synagogue on the Sabbath day, which was the social hub for every Jewish man and woman. It's where everyone in a local community would consistently meet for the sake of preserving their faith and national identity; it had a built-in audience and was an ideal starting spot to share a message.
Jesus started to teach the people concerning God's Kingdom, and it didn't take very long for them to recognize something special was unfolding before them:
And they were astonished at His teaching, for He taught them as one having authority, and not as the scribes. Mark 1:22 (NKJV)
When Jesus taught concerning spiritual things, it was different from when others taught. He spoke with an authority that nobody had ever heard before. It was as if they were hearing from God Himself (which they actually were). But then something truly unexpected happened. As Jesus was teaching, a demon-possessed man began to shout:
"Let us alone! What have we to do with You, Jesus of Nazareth? Did You come to destroy us? I know who You are; the Holy One of God!" But Jesus rebuked him, saying, "Be quiet, and come out of him!" And when the unclean spirit had convulsed him and cried out with a loud voice, he came out of him. Mark 1:24-26 (NKJV)
Take note, Christ's authority as a teacher was affirmed by His ability to cast out the demon. This shows us that Jesus has all authority both in what He says (creed) and in what He does (deed). Simply stated, Jesus possesses all authority. No one is greater, wiser, stronger, or superior in any way.
At the end of the day, our lives are in Christ's hands. Nobody usurps His authority over us. No one can command us to do something that He doesn't. We answer to Jesus and to Him alone, because only He has all authority.
Think About It…
What does this passage reveal to me about God?
What does this passage reveal to me about myself?
Based on this, what changes do I need to make?
What is my prayer for today?
SPECIAL OFFER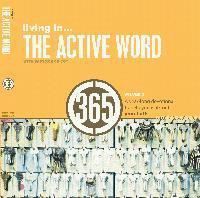 God's mercy is new every day. That's because it's needed
daily
. So to help you walk through a fresh new day, the Active Word has put together this second volume of the 365 Devotional. Our hope in creating this series of devotionals, is to help you connect with God's Word 365 days a year. And the best thing is, you can start any day of the year. Stay in step with God's Word, His will, and learn to live out your faith, daily.
Recently on Active Word with Pastor Bob Coy
Follow us on Facebook
Get Active Word with Pastor Bob Coy devotionals directly to your News Feed.
Have something to say about this article? Leave your comment via Facebook below!
advertise with us
Example: "Gen 1:1" "John 3" "Moses" "trust"
Advanced Search
Listen to Your Favorite Pastors