Active Word - Oct. 2

October 2
Against the Law
Stand fast therefore in the liberty by which Christ has made us free, and do not be entangled again with a yoke of bondage. —Galatians 5:1 (NKJV)
Something dangerous dwells deep down in our fallen human nature. Many of us would argue against having any involvement with it. But when you step back and look at who we are as human beings, there's no denying it. We are bent towards legalism.
"Legalism? You must be kidding! I'm as non-legalistic as you can possibly get!" Be careful, Christian. God's Word warns us against the tendency to get entangled with the yoke of bondage, which is referring to our tendency to relate to God through a set of rules rather than His grace (Galatians 5:1 and Acts 15:10).
This specific warning was given to the Christians living in the region of Galatia. After placing their faith in Christ, a group of people known as Judaizers started to come around. They gave lip service to Jesus but told the Galatians they should also keep the Laws of Moses. According to them, it was Christ plus the Law that made them right with God.
Here's the interesting thing: The Galatians bought into this! They actually had to be corrected and commanded to stand fast in their freedom in Christ and to forsake their legalistic ways. They had to be reminded that their salvation was all about what Jesus had done for them, and not what they did in return.
Why did the Galatians buy into the lie? Because there's that bent in all of us. We actually like the rules because when we keep them, we feel God owes us something in return. Grace, on the other hand, is offensive to our fallen nature because it means we aren't owed anything. God simply forgives and blesses us based on His grace, and He won't have it any other way.
Guard against the temptation to find rest in legalism or in keeping a set of rules in order to be right with God. It may seem like the right thing to do, but in the end, it's only going to bring bondage. Rest in God's grace. Period.
small group time:::
THINK ABOUT IT...
What does this passage reveal to me about God?
What does this passage reveal to me about myself?
Based on this, what changes do I need to make?
What is my prayer for today?
SPECIAL OFFER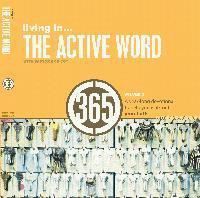 God's mercy is new every day. That's because it's needed
daily
. So to help you walk through a fresh new day, the Active Word has put together this second volume of the 365 Devotional. Our hope in creating this series of devotionals, is to help you connect with God's Word 365 days a year. And the best thing is, you can start any day of the year. Stay in step with God's Word, His will, and learn to live out your faith, daily.
Recently on Active Word with Pastor Bob Coy
Follow us on Facebook
Get Active Word with Pastor Bob Coy devotionals directly to your News Feed.
Have something to say about this article? Leave your comment via Facebook below!
advertise with us
Example: "Gen 1:1" "John 3" "Moses" "trust"
Advanced Search
Listen to Your Favorite Pastors