Active Word - Oct. 5

October 5
False Impression
Then as He went out of the temple, one of His disciples said to Him, "Teacher, see what manner of stones and what buildings are here!" —Mark 13:1 (NKJV)
Herod's Temple was impressive. It had been under construction for more than forty-five years at the time of Christ's public ministry (and would take another thirty years or so to complete). Its foundation stones weighed approximately 600 tons, and they are still standing to this very day in Jerusalem. Comprised of precisionhewn white marble, the eastern wall was plated in gold. As the middleeastern sun would rise each morning,
its glory must have glistened in a way few had ever witnessed. Suffice it to say, Herod's Temple was an amazing spectacle. So we can understand how one of Christ's disciples was impressed enough to draw it to the Lord's attention. Jesus, however, had a less enthusiastic take on the Temple:
And Jesus answered and said to him, "Do you see these great buildings? Not one stone shall be left upon another, that shall not be thrown down." Mark 13:2 (NKJV)
Instead of being impressed by the Temple's splendor, Jesus saw what would eventually happen to it and prophesied its destruction. For the record, the Romans would tear the temple apart stone by stone about forty years after Christ made this statement.
But this prophecy is also a warning. It's a warning to the disciples against being overly impressed by the things of this world. Eventually, everything here on earth is going to fade and vanish, regardless of how glorious and glamorous it looks right now.
It's a warning to us, too, and we need to gain a sense of perspective and priority from it. Perspective: We must see things as they really are and understand everything in this world is temporary at best. Priority: We must focus our attention and affection on the things that will last. May we be more impressed with the things of Heaven than of earth!
For the things which are seen are temporary, but the things which are not seen are eternal. 2 Corinthians 4:18 (NKJV)
small group time:::
THINK ABOUT IT...
What does this passage reveal to me about God?
What does this passage reveal to me about myself?
Based on this, what changes do I need to make?
What is my prayer for today?
SPECIAL OFFER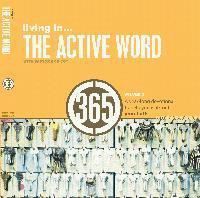 God's mercy is new every day. That's because it's needed
daily
. So to help you walk through a fresh new day, the Active Word has put together this second volume of the 365 Devotional. Our hope in creating this series of devotionals, is to help you connect with God's Word 365 days a year. And the best thing is, you can start any day of the year. Stay in step with God's Word, His will, and learn to live out your
faith
, daily.
Recently on Active Word with Pastor Bob Coy
Follow us on Facebook
Get Active Word with Pastor Bob Coy devotionals directly to your News Feed.
Have something to say about this article? Leave your comment via Facebook below!
advertise with us
Example: "Gen 1:1" "John 3" "Moses" "trust"
Advanced Search
Listen to Your Favorite Pastors