Active Word - Sept. 20

September 20
Really rooted
"Some fell on stony ground, where it did not have much earth; and immediately it sprang up because it had no depth of earth. But when the sun was up it was scorched, and because it had no root it withered away. —Mark 4:5-6 (NKJV)
We're looking at the different warnings of God. Specifically, we're looking at three specific warnings embedded in Jesus' parable of the sower and the seed. Yesterday, we saw the warning about Satan snatching the seed of God's Word from the hearts of those who hear it.
Now, we turn our attention to the next warning, which is portrayed through the picture of "stony ground." Jesus describes how the seed lands on this type of soil, and at first it produces. Then the sun comes up, and because the seed wasn't able to establish a strong root system, it can't withstand the heat and dies.
That's the picture of what happens in the natural world. But Jesus doesn't stop there. He goes on to explain the spiritual reality that runs parallel to the parable:
"These likewise are the ones sown on stony ground who, when they hear the word, immediately receive it with gladness; and they have no root in themselves, and so endure only for a time. Afterward, when tribulation or persecution arises for the word's sake, immediately they stumble. Mark 4:16-17 (NKJV)
Some people hear God's Word, and on the surface, it seems they receive it. There's even some evidence of it producing good in their lives. But beneath the surface, something's wrong. Their heart doesn't let the Word go as deep as it should. There's shallowness there, and because the Word hasn't truly taken root, they wither and wilt when the heat gets turned up.
Jesus is warning us against having a shallow heart. He's telling us we need to allow God's Word to take root inside of us and accept it into the deepest recesses of our soul. Let's take this to heart by being rooted and grounded in the Word of God.
small group time:::
THINK ABOUT IT...
What does this passage reveal to me about God?
What does this passage reveal to me about myself?
Based on this, what changes do I need to make?
What is my prayer for today?
SPECIAL OFFER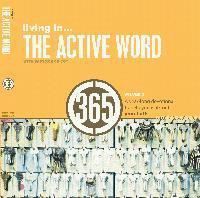 God's mercy is new every day. That's because it's needed
daily
. So to help you walk through a fresh new day, the Active Word has put together this second volume of the 365 Devotional. Our hope in creating this series of devotionals, is to help you connect with God's Word 365 days a year. And the best thing is, you can start any day of the year. Stay in step with God's Word, His will, and learn to live out your
faith
, daily.
Recently on Active Word with Pastor Bob Coy
Follow us on Facebook
Get Active Word with Pastor Bob Coy devotionals directly to your News Feed.
Have something to say about this article? Leave your comment via Facebook below!
advertise with us
Example: "Gen 1:1" "John 3" "Moses" "trust"
Advanced Search
Listen to Your Favorite Pastors