A Relationship with the Word
In His Presence: One who looks intently at the perfect law, the law of liberty, and abides by it, not having become a forgetful hearer but an effectual doer, this man will be blessed in what he does (James 1:25).
The final step in being transformed into the image of Christ by the Word of God is maintaining a relationship with the Word. James said the one who looks into the mirror of Scripture intently will not only read what it says, he will do it.
One Minute Please
Carry the Bible everywhere; look intently into it, abide in it, and you will change.
Watch Online Videos of Dr. Tony Evans and The Urban Alternative at LightSource.com
and
Listen to Dr. Tony Evans Online Broadcasts at OnePlace.com.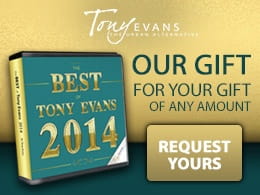 The Best of Tony Evans 2014
The Best of Tony Evans 2014 is a collection of some of Dr. Evans most powerful messages of the year.
Request your copy
of
The Best of Tony Evans 2014
CD Series for your gift of any amount.