NAME OF GOD: Elohim Machase Lanu
Verse: Trust in him at all times, you people; pour out your hearts to him, for God is our refuge. - Psalm 62:8
Meaning: God Our Refuge.
Prayer: Supplication
Elohim Machase Lanu you know what I'm asking you first. My first request is that I won't need a refuge but that you will stand guard in my life and guide me away from trials and tribulations. But I know in your word you say that in this life we will face trials and tribulations, so I know that there will be times where I am in great need. I ask Elohim Machase Lanu that you will do something in those times to get my attention – to remind me – to look to you so that I don't falter out there on my own trying to comfort and protect myself, or in looking to someone else rather than you.
Watch Online Videos of Dr. Tony Evans and The Urban Alternative at LightSource.com
and
Listen to Dr. Tony Evans Online Broadcasts at OnePlace.com.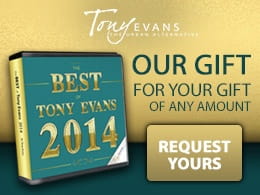 The Best of Tony Evans 2014
The Best of Tony Evans 2014 is a collection of some of Dr. Evans most powerful messages of the year.
Request your copy
of
The Best of Tony Evans 2014
CD Series for your gift of any amount.