NAME OF GOD: Ben Elohim
Verse: Simon Peter answered, 'You are the Christ the Son of the living God.' - Matthew 16:16
Meaning: The Son of God.
Prayer: Adoration
Ben Elohim you are the Christ the son of the living God. I worship you for you have come to take away the sins of the world. After God spoke long ago to the prophets, He chose to speak to us through you, Ben Elohim, whom He has made heir of all things. It is also through you that He made the world. You are the radiance of God's glory and the exact representation of Him in every way. I lift up your name as you have sat down at the right hand of the Majesty on high having inherited a more excellent name than anyone ever has.
Watch Online Videos of Dr. Tony Evans and The Urban Alternative at LightSource.com
and
Listen to Dr. Tony Evans Online Broadcasts at OnePlace.com.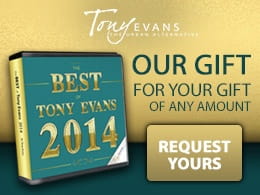 The Best of Tony Evans 2014
The Best of Tony Evans 2014 is a collection of some of Dr. Evans most powerful messages of the year.
Request your copy
of
The Best of Tony Evans 2014
CD Series for your gift of any amount.