NAME OF GOD: Elohim Ozer Li
Verse: Surely God is my help; the Lord is the one who sustains me. - Psalm 54:4
Meaning: God My Helper.
Prayer: Supplication
Elohim Ozer Li I ask for your help. Many things are weighing me down but you know the one that is heavy on me the most and I ask you to intervene. Please guard me from responding to this situation inappropriately. Guard me from turning to my own ways and human wisdom. Remind me by showing me your hand that you are near and you are my sustaining help and do help me this very day Elohim Ozer Li for I am dependent upon you in every way.
Watch Online Videos of Dr. Tony Evans and The Urban Alternative at LightSource.com
and
Listen to Dr. Tony Evans Online Broadcasts at OnePlace.com.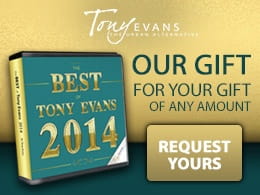 The Best of Tony Evans 2014
The Best of Tony Evans 2014 is a collection of some of Dr. Evans most powerful messages of the year.
Request your copy
of
The Best of Tony Evans 2014
CD Series for your gift of any amount.