NAME OF GOD: Jehovah El Gemuwal
Verse: For the destroyer is coming against her, against Babylon, And her mighty men will be captured, Their bows are shattered; For the Lord (Jehovah) is a God (El) of recompense (Gemuwal), He will fully repay. - Jeremiah 51:56
Meaning: The LORD God of recompenses.
Prayer: Confession
Jehovah El Gemuwal forgive me for when I try to take my own revenge. Forgive me for when I fear that you won't. Forgive me for those times when I am angry and fearful because I am being bullied or wronged, and I forget to trust in your great name Jehovah El Gemuwal. You see all. You know all. You leave no stone unturned. I don't need to go and tell everyone else when I am wronged, rather I only need to look to you because you will repay. You will not be mocked. Forgive me for forgetting this far too often.
Watch Online Videos of Dr. Tony Evans and The Urban Alternative at LightSource.com
and
Listen to Dr. Tony Evans Online Broadcasts at OnePlace.com.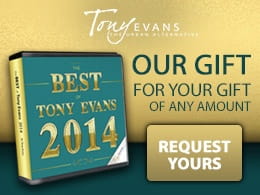 The Best of Tony Evans 2014
The Best of Tony Evans 2014 is a collection of some of Dr. Evans most powerful messages of the year.
Request your copy
of
The Best of Tony Evans 2014
CD Series for your gift of any amount.