Good…All the Time
John 10:10-11 gives us a great truth,
"The thief does not come except to steal, and to kill, and to destroy. I have come that they may have life, and that they may have it more abundantly. I am the good shepherd. The good shepherd gives His life for the sheep."
Is your concept of God that He is good sometimes, but not all the time? That sometimes He is blessing you; but other times, He is the source of your troubles? If so, I want to put that notion out of your heart and mind today.
Jesus came to give us abundant life, while the devil, the thief, wants to steal, kill, and destroy. God is always a good God, and the devil is always a bad devil.
I remember, as a young Christian, I ran into another new convert in the park one day. He looked troubled, so I asked him what was up. He told me he was sick and had just received some bad news as well. Then he went on to tell me that he was at a Bible study the day before and they told him that God was doing all of these things to him.
It had shaken him to think that God was the source of his troubles, and that He was responsible for all the troubles in his life.
A lot of people tend to think that way, but it is just wrong. God is good all the time. The Bible says in James 1:17,
Every good gift and every perfect gift is from above, and comes down from the Father of lights, with whom there is no variation or shadow of turning.
There is not the slightest degree of variation in this. God is good. And the gifts He gives are good and perfect gifts. I am glad they don't just stay in heaven. God sees to it that they make their way down to you and me.
God is good…all the time.
Visit the Answers with Bayless Conley website for more ways to Connect with God
and
click here to view today's Answers with Bayless Conley broadcast at LightSource.com.
FEATURED RESOURCE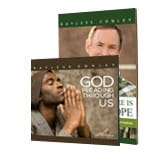 God Pleading Through Us & There is Always Hope
God can bring hope to even the most devastating and hopeless of circumstances. He can turn impossible situations around, and save lost and weary souls. He has a way of reaching us just where we are.
In his booklet, There Is Always Hope, and CD/DVD message, God Pleading Through Us, Bayless Conley shares his personal testimony . . . how God transformed the life of a truly lost and hopeless soul.
God can do the same for you and your loved ones! That is why we would like to send you a copy of these powerful resources as our gift to thank you for your support of Answers with Bayless Conley and helping to bless others with the Gospel. So thank you for giving.
We pray that you and those you care about would know the amazing hope that God can bring today!