Real Goodness
Romans 2:4 declares,
The goodness of God leads you to repentance.
Ephesians 2:4-6 says,
But God, who is rich in mercy, because of His great love with which He loved us, even when we were dead in trespasses, made us alive together with Christ (by grace you have been saved), and raised us up together, and made us sit together in the heavenly places in Christ Jesus.
God is not holding your sins against you. He sent His Son to pay a debt that had to be paid in order to liberate you from sin. God extends His mercy and forgiveness to you and me even when we do not deserve it.
It was His goodness that arrested my attention and that brought me to the foot of the cross, even when I was in my darkest sin, doing terrible things, abusing my body with drugs and alcohol, and doing things that should have put me in an early grave. In fact, a number of times I nearly died. But God loved me right in the middle of all of that.
I want to tell you, wherever you are right now, God loves you. You may be in the depths of the darkest sin you have ever been involved in, you just feel wretched, but God loves you right where you are.
He loves you so much He doesn't want to leave you there. His grace can reach you, change you and lift you out of any sin or situation if you will turn to Him with all of your heart.
There is no reason to fear or hesitate. Entrust yourself to the goodness of God and say yes to Him today.
Visit the Answers with Bayless Conley website for more ways to Connect with God
and
click here to view today's Answers with Bayless Conley broadcast at LightSource.com.
FEATURED RESOURCE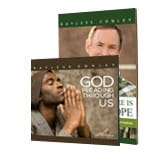 God Pleading Through Us & There is Always Hope
God can bring hope to even the most devastating and hopeless of circumstances. He can turn impossible situations around, and save lost and weary souls. He has a way of reaching us just where we are.
In his booklet, There Is Always Hope, and CD/DVD message, God Pleading Through Us, Bayless Conley shares his personal testimony . . . how God transformed the life of a truly lost and hopeless soul.
God can do the same for you and your loved ones! That is why we would like to send you a copy of these powerful resources as our gift to thank you for your support of Answers with Bayless Conley and helping to bless others with the Gospel. So thank you for giving.
We pray that you and those you care about would know the amazing hope that God can bring today!