Confounding the Wise
In 1 Corinthians 1:20, 27-29, the apostle Paul provides a very powerful word,
Where is the wise? Where is the scribe? Where is the disputer of this age? Has not God made foolish the wisdom of this world? But God has chosen the foolish things of the world to put to shame the wise, and God has chosen the weak things of the world to put to shame the things which are mighty; and the base things of the world and the things which are despised God has chosen, and the things which are not, to bring to nothing the things that are, that no flesh should glory in His presence.
We are often enamored with what the world considers wise and mighty, but God isn't. In fact, He chooses things that are foolish and weak, things the world considers insignificant, and things the world even despises, to put to shame the things that people consider wise.
I really like the King James Version when it states that God does these things to confound the wise.
We need to understand that sometimes God turns human conventional wisdom on its head. And I believe Scripture shows us three ways in which He does that.
First, there are times that God turns conventional wisdom on its head with the people He chooses for His purposes. Second, He will confound human wisdom with the plans He unfolds. Whether they are for your deliverance, or plans to further His kingdom and expand His work.
And then, third, God will truly confound the wise of this world with the pardon that He provides.
Through people, plans, and pardon, God does confound the wise!
Visit the Answers with Bayless Conley website for more ways to Connect with God
and
click here to view today's Answers with Bayless Conley broadcast at LightSource.com.
FEATURED RESOURCE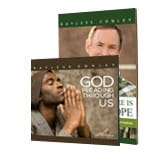 God Pleading Through Us & There is Always Hope
God can bring hope to even the most devastating and hopeless of circumstances. He can turn impossible situations around, and save lost and weary souls. He has a way of reaching us just where we are.
In his booklet, There Is Always Hope, and CD/DVD message, God Pleading Through Us, Bayless Conley shares his personal testimony . . . how God transformed the life of a truly lost and hopeless soul.
God can do the same for you and your loved ones! That is why we would like to send you a copy of these powerful resources as our gift to thank you for your support of Answers with Bayless Conley and helping to bless others with the Gospel. So thank you for giving.
We pray that you and those you care about would know the amazing hope that God can bring today!