A Seedbed of Faith
In Judges 6:11-15, we read this about Gideon,
Now the Angel of the LORD came and sat under the terebinth tree which was in Ophrah, which belonged to Joash the Abiezrite, while his son Gideon threshed wheat in the winepress, in order to hide it from the Midianites. And the Angel of the LORD appeared to him, and said to him, "The LORD is with you, you mighty man of valor!" Gideon said to Him, "O my lord, if the LORD is with us, why then has all this happened to us? And where are all His miracles which our fathers told us about, saying, 'Did not the LORD bring us up from Egypt?' But now the LORD has forsaken us and delivered us into the hands of the Midianites." Then the LORD turned to him and said, "Go in this might of yours, and you shall save Israel from the hand of the Midianites. Have I not sent you?" So he said to Him, "O my Lord, how can I save Israel? Indeed my clan is the weakest in Manasseh, and I am the least in my father's house."
We often think of Gideon as a great champion for Israel, and he was. But when he was chosen, we found him cowering in the winepress. He was hiding, he was fearful, he was negative, he was doubtful, and he was questioning.
While we might be critical of Gideon, I have found that the only people who never question are those who have been indoctrinated. Sometimes you need to doubt. Sometimes you need to question. In fact, a lot of times uncertainty is the seedbed from which faith grows.
If you are struggling with doubt today, if you have genuine questions, don't panic. If you are sincerely looking for answers, God will meet you, and faith will spring from the answers you find.
Visit the Answers with Bayless Conley website for more ways to Connect with God
and
click here to view today's Answers with Bayless Conley broadcast at LightSource.com.
FEATURED RESOURCE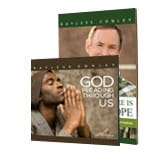 God Pleading Through Us & There is Always Hope
God can bring hope to even the most devastating and hopeless of circumstances. He can turn impossible situations around, and save lost and weary souls. He has a way of reaching us just where we are.
In his booklet, There Is Always Hope, and CD/DVD message, God Pleading Through Us, Bayless Conley shares his personal testimony . . . how God transformed the life of a truly lost and hopeless soul.
God can do the same for you and your loved ones! That is why we would like to send you a copy of these powerful resources as our gift to thank you for your support of Answers with Bayless Conley and helping to bless others with the Gospel. So thank you for giving.
We pray that you and those you care about would know the amazing hope that God can bring today!