Listen… to Understand
In Proverbs 18:2, we are given an important word of warning,
A fool has no delight in understanding, but in expressing his own heart.
It is so easy to play the role of such a fool when we are dealing with a strained or broken relationship. Rather than seeking to understand the other person, we will often feel the need to make the other person understand our hurt.
Like me, you have probably said, "You need to hear me. You need to understand why I'm hurt. You need to understand why I reacted the way I reacted. You need to see that I'm right. I need to convince you that I'm justified in the things I've said and the things I've done."
When we say those things, we are not interested in understanding the other person's point of view to reach a mutual peace. We just want to express our opinions, our hurt, and our reasons.
The Bible says that is the way a fool behaves. I am going to stand at the front of the line and say, "I've been that fool more than once." But we must learn to listen and understand.
Once you have listened and understood, here is an important phrase to learn, "I see what you're saying, and I'm sorry." That does not mean, "I see what you're saying, and I'm sorry you're such an idiot." That means, "I've listened to you, I've heard you, and I'm sorry." Period. "Forgive me."
It is amazing how some people choke on those words. In fact, it is shocking to realize how few people know how to give a proper apology. They offer the rose of an apology by handing it thorn-end first.
Don't play the fool. Listen…to understand.
Visit the Answers with Bayless Conley website for more ways to Connect with God
and
click here to view today's Answers with Bayless Conley broadcast at LightSource.com.
FEATURED RESOURCE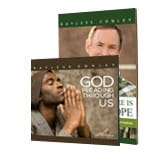 God Pleading Through Us & There is Always Hope
God can bring hope to even the most devastating and hopeless of circumstances. He can turn impossible situations around, and save lost and weary souls. He has a way of reaching us just where we are.
In his booklet, There Is Always Hope, and CD/DVD message, God Pleading Through Us, Bayless Conley shares his personal testimony . . . how God transformed the life of a truly lost and hopeless soul.
God can do the same for you and your loved ones! That is why we would like to send you a copy of these powerful resources as our gift to thank you for your support of Answers with Bayless Conley and helping to bless others with the Gospel. So thank you for giving.
We pray that you and those you care about would know the amazing hope that God can bring today!