When Peace Isn't Possible
Romans 12:18 says,
If it is possible, as much as depends on you, live peaceably with all men.
By implication, this verse is telling us that it is not possible to live peaceably with some people because they refuse to make peace. They take the posture of being an enemy, being an antagonist, and they refuse to shift from that position no matter what you do.
But as much as it depends on you, you must pursue the things that make for peace. You need to pray, you need to communicate, and if God leads you, you need to give a gift. And certainly with your actions, you need to express the fact that you want peace.
Sometimes somebody may not yield. They may not yield to the influence of God's Spirit; they may not yield to your endeavors. But once you have done all you can do, all you can do has been done.
Does that give you a license to be rude to them or to treat them unpleasantly? No. The next few verses address that. Look at Romans 12:19-21,
Beloved, do not avenge yourselves, but rather give place to wrath; for it is written, "Vengeance is Mine, I will repay," says the Lord. Therefore "If your enemy is hungry, feed him; If he is thirsty, give him a drink; For in so doing you will heap coals of fire on his head." Do not be overcome by evil, but overcome evil with good.
Continue to extend the olive branch. If they never respond, at least you will have a clean conscience. God will deal with the things that you cannot deal with. Do not take matters into your own hands. "Vengeance is Mine," says the Lord.
Visit the Answers with Bayless Conley website for more ways to Connect with God
and
click here to view today's Answers with Bayless Conley broadcast at LightSource.com.
FEATURED RESOURCE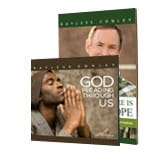 God Pleading Through Us & There is Always Hope
God can bring hope to even the most devastating and hopeless of circumstances. He can turn impossible situations around, and save lost and weary souls. He has a way of reaching us just where we are.
In his booklet, There Is Always Hope, and CD/DVD message, God Pleading Through Us, Bayless Conley shares his personal testimony . . . how God transformed the life of a truly lost and hopeless soul.
God can do the same for you and your loved ones! That is why we would like to send you a copy of these powerful resources as our gift to thank you for your support of Answers with Bayless Conley and helping to bless others with the Gospel. So thank you for giving.
We pray that you and those you care about would know the amazing hope that God can bring today!