"Come Over and Help Us"
And a vision appeared to Paul in the night.  A man of Macedonia stood and pleaded with him, saying, "Come over to Macedonia and help us."  Now after he had seen the vision, immediately we sought to go to Macedonia, concluding that the Lord had called us to preach the gospel to them (Acts 16:9-10).
The world is in need and they are calling!  I can hear Africa, Asia, voices from South America and Europe calling out.  China and Australia, New Zealand and Indonesia, Japan and the Philippines…voices from around the globe crying out, "Come over and help us!"
The call may be coming from down your street or from the next aisle in the grocery store.  "Help me!  I'm lost.  I want to find God.  I have problems I can't cope with.  I have an aching void in my heart that I don't know how to fill.  Is there anyone out there with answers?!"
Who will go to them if not you and me? 
To say, "I don't feel called to go to them," is equivalent to a strong swimmer standing on the shore of a lake saying he doesn't feel called to save the man drowning before his eyes. 
Ask God today to direct you to someone whose heart has cried out for answers and help.  Chances are you won't have to go too far to find them.
---
Visit the Answers with Bayless Conley website for more ways to connect with God. 
Click here to watch this week's Answers with Bayless Conley broadcast at LightSource.com or listen on OnePlace.com.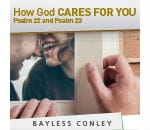 Discover how much God cares for you!
We want to help you find your Shepherd by sending you a copy of Bayless' message, 'How God Cares for You.' This series is our gift to thank you for your donation to help bring a living Jesus to our dying world!