The Prayer of Dedication
Yesterday we began a journey to understand the different kinds of prayer for the different circumstances we face in life. The first kind of prayer I want to point you to is the prayer of dedication.
Mark 14:32, 35-36 helps us understand this type of prayer,
Then they came to a place which was named Gethsemane; and He said to His disciples, "Sit here while I pray."…He went a little farther, and fell on the ground, and prayed that if it were possible, the hour might pass from Him. And He said, "Abba, Father, all things are possible for You. Take this cup away from Me; nevertheless, not what I will, but what You will."
Here we find Jesus dedicating and consecrating Himself to the will of the Father. He is in agony; He is in distress. This is the eve of His crucifixion. And Jesus is saying, "Lord, if we can redeem humanity some other way, God, please! But Your will is what is important. So I am consecrating Myself to Your will, Father."
This prayer of dedication and consecration is one that believers should pray. In fact, I believe every Christian should pray this prayer in a general sense after they get saved. Just like the apostle Paul on the road to Damascus, "Lord, what would You have me to do?"
Also, when you come to specific crossroads as you follow God, if you are unsure of God's will, or you feel He may be leading you into a specific area that will require sacrifice, reestablish that consecration and dedication to God through this kind of prayer.
Christ was dedicated to do the will of the Father, and yet He reaffirmed that dedication as He prayed, "I am willing to submit Myself to You."
Pray it. Vocalize it. Submit yourself to His will as He reveals it.
Visit the Answers with Bayless Conley website for more ways to Connect with God
and
click here to view today's Answers with Bayless Conley broadcast at LightSource.com.
FEATURED RESOURCE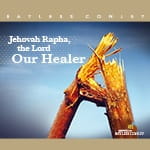 The Bible reveals God's nature through the names it gives Him. Jehovah Rapha means "I am the Lord who heals you." God is, by His very nature, a healer. He is a God of health, healing, and wholeness.
Bayless Conley shows you how to grasp the importance of God's role as divine healer – and how to access the healing power of God's nature – in the powerful message Jehovah Rapha, the Lord Our Healer!
We want to send you this powerful CD message as our thank you for your generous donation to help Answers with Bayless Conley continue to bring a living Jesus to our dying world.
May this resource help you find healing from the Lord!