Yesterday we learned about the prayer of dedication. Today I want to help you understand the prayer of faith. This kind of prayer is found in Mark 11:22-24,
So Jesus answered and said to them, "Have faith in God. For assuredly, I say to you, whoever says to this mountain, 'Be removed and be cast into the sea,' and does not doubt in his heart, but believes that those things he says will be done, he will have whatever he says. Therefore I say to you, whatever things you ask when you pray, believe that you receive them, and you will have them."
With the prayer of faith, at the moment you pray you are to believe that you receive what you pray for. Not when the circumstances look different, not at some point in the future, but when you pray. The Amplified Bible says, Believe that it is granted to you.
When you pray, believe that God hears you and that He has sent the answer, whether you feel differently or not. Before you ever get up off your knees, believe that heaven has sent the answer.
1 John 5:14-15 says it this way,
Now this is the confidence that we have in Him, that if we ask anything according to His will, He hears us. And if we know that He hears us, whatever we ask, we know that we have the petitions that we have asked of Him.
The prayer of faith is prayed when you know and understand God's will. Friend, the Bible is a revelation of the will of God. Prayer will not reach beyond the will of God, and God's Word reveals His will to us.
So pray the prayer of faith according to His will, and you can be assured He hears you and heaven has sent the answer to your prayer.
Visit the Answers with Bayless Conley website for more ways to Connect with God
and
click here to view today's Answers with Bayless Conley broadcast at LightSource.com.
FEATURED RESOURCE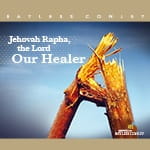 The Bible reveals God's nature through the names it gives Him. Jehovah Rapha means "I am the Lord who heals you." God is, by His very nature, a healer. He is a God of health, healing, and wholeness.
Bayless Conley shows you how to grasp the importance of God's role as divine healer – and how to access the healing power of God's nature – in the powerful message Jehovah Rapha, the Lord Our Healer!
We want to send you this powerful CD message as our thank you for your generous donation to help Answers with Bayless Conley continue to bring a living Jesus to our dying world.
May this resource help you find healing from the Lord!