The Prayer of Agreement
In the last two devotionals, we have learned about the prayer of dedication and the prayer of faith. Today I want to help you understand the prayer of agreement.
This prayer is found in Matthew 18:19, where Jesus says,
"Again, I tell you that if two of you on earth agree about anything you ask for, it will be done for you by my Father in heaven."
When I pray with other people, nine times out of ten this is the prayer that I pray with them. And most of the time I will quote this verse to them.
I remember working for a ministry years ago and praying with the folks who called on the phone. When I prayed with someone, I would walk them through this verse before we prayed.
The steps I pointed out were simple:
There needs to be at least two of us praying.
We need to agree.
We need to be on earth (I usually got a laugh out of this one).
What we are asking God for needs to come under the category of "anything" (which their request always did).
God will do it.
The only part people ever got hung up on was the agreement. "What does it mean to agree?" they would ask. I would say, "Simple, to agree means to agree." Don't over-spiritualize it. If we decide to get lunch together at a certain time at a certain place, and you say, "Ok, see you there," we have just agreed.
To agree in prayer is no different.
Read this verse again. Look at it step by step, and follow it—in all its simplicity. If we do our part, God will do His.
Visit the Answers with Bayless Conley website for more ways to Connect with God
and
click here to view today's Answers with Bayless Conley broadcast at LightSource.com.
FEATURED RESOURCE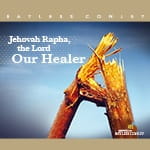 The Bible reveals God's nature through the names it gives Him. Jehovah Rapha means "I am the Lord who heals you." God is, by His very nature, a healer. He is a God of health, healing, and wholeness.
Bayless Conley shows you how to grasp the importance of God's role as divine healer – and how to access the healing power of God's nature – in the powerful message Jehovah Rapha, the Lord Our Healer!
We want to send you this powerful CD message as our thank you for your generous donation to help Answers with Bayless Conley continue to bring a living Jesus to our dying world.
May this resource help you find healing from the Lord!