The Prayer of Supplication
Today I want to focus your attention on the prayer of supplication. Ephesians 6:18 tells us,
With all prayer and petition pray at all times in the Spirit, and with this in view, be on the alert with all perseverance and petition for all the saints
When Paul says, Praying always with all prayer, the Greek word he uses for prayer is just a general term for prayer used throughout the New Testament.
But the word he uses translated supplication means prayer for definite, specific needs. Most generally, you will find that this is a prayer prayed for others, as is the case in this verse.
In Philippians 1:4, Paul uses this same word for supplication, when he says,
Always in every prayer of mine making request for you all with joy.
Both the words translated prayer and request are the Greek word for supplication that we just read in Ephesians 6:18. But here it is translated as prayer and request.
I want you to notice who he is saying to pray for, Always in every prayer of mine making request for you all. It is for someone else.
Recently, I had a pastor friend ask me to pray for his church and their finances. He said things were really tight. So several times I brought the issue before God and made specific requests about it…or supplications.
Now, I did not pray, "I believe I receive it." That is not my place. What I did do was pray for God to help them. I prayed that God would give them wisdom, that God would inspire the people in the church to give, that people would have a heart for souls, and a number of other specific requests over the following several days.
That is the prayer of supplication…praying specific requests for specific people.
Visit the Answers with Bayless Conley website for more ways to Connect with God
and
click here to view today's Answers with Bayless Conley broadcast at LightSource.com.
FEATURED RESOURCE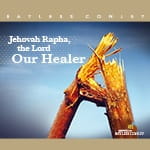 The Bible reveals God's nature through the names it gives Him. Jehovah Rapha means "I am the Lord who heals you." God is, by His very nature, a healer. He is a God of health, healing, and wholeness.
Bayless Conley shows you how to grasp the importance of God's role as divine healer – and how to access the healing power of God's nature – in the powerful message Jehovah Rapha, the Lord Our Healer!
We want to send you this powerful CD message as our thank you for your generous donation to help Answers with Bayless Conley continue to bring a living Jesus to our dying world.
May this resource help you find healing from the Lord!