Your Real Adversary
As we continue to think about the reality of trials in our lives, and the challenge it is to handle those trials, I want to point you to another important teaching about trials in today's devotional.
You need to realize who your adversary is. It is not God; it is the devil. Look at 1 Peter 5:8-9,
Be sober, be vigilant; because your adversary the devil walks about like a roaring lion, seeking whom he may devour. Resist him, steadfast in the faith, knowing that the same sufferings are experienced by your brotherhood in the world.
Some of the trials and sufferings that we experience are the direct result of the adversary's work.
Some people want to blame God for everything, but the Bible says it is the thief— the devil—who comes to steal, kill, and destroy. Jesus came to give us life and more abundantly.
Peter makes this even clearer in verse 10,
But may the God of all grace, who called us to His eternal glory by Christ Jesus, after you have suffered a while, perfect, establish, strengthen, and settle you.
Our God is the God of grace. The devil is seeking to devour.
Frankly, I hate the middle part of this verse, After you have suffered for a while…. Clearly, God wants us to understand that suffering is going to happen. Trials are going to happen. No matter how much you may say, "I don't receive it!", it is still there! You are going to go through difficult times. It is part of the human experience.
But when you go through that time of trial, remember not to blame God. It is the devil who is your adversary!
Visit the Answers with Bayless Conley website for more ways to Connect with God
and
click here to view today's Answers with Bayless Conley broadcast at LightSource.com.
FEATURED RESOURCE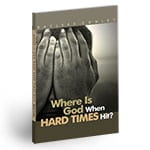 Where is God When Hard Times Hit?
When hard times hit, it can seem like God is nowhere to be found. In Where Is God When Hard Times Hit? Bayless Conley examines the life of Elijah, a foundational figure of faith. In the midst of Elijah's distress, God revealed Himself in a most amazing way, providing valuable lessons for anyone in the midst of trouble or hard times. Be sure to request Where Is God When Hard Times Hit? when you give your gift to reach more people with the transformational message of the Gospel.