Rich Blessings
Let me ask you a question. Do you believe God wants to bless you? You may say, "Yes," but in your heart do you really believe this to be true?
Take a moment to read Ezekiel 34:26,
"…I will cause showers to come down in their season; there shall be showers of blessing."
I believe the Bible teaches us that just like there are seasons of trial, there are seasons of exceptional blessing that come from God. And those seasons of exceptional blessing should not be taken for granted. We should capitalize on them and seize the momentum when those seasons come.
Don't get me wrong, God is good all the time, and He is good to all. His tender mercies are over all His works. He causes His sun to rise on the good and on the evil, and He sends rain on the just and on the unjust. The fact of the matter is, God is good even to people who are not good because it is His nature.
However, there are richer, more frequent blessings that come from the hand of God. And they come to those who do a particular thing.
Tomorrow I want you to look with me in the book of Galatians. As we look at these verses, we will find that though God is good to all, the richer and more frequent blessings come to those who do a particular thing. Together we will see what that thing is.
Today, I just want you to grasp the truth that God does want to bless your life in an extraordinary way.
Visit the Answers with Bayless Conley website for more ways to Connect with God
and
click here to view today's Answers with Bayless Conley broadcast at LightSource.com.
FEATURED RESOURCE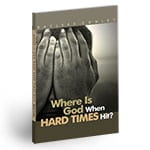 Where is God When Hard Times Hit?
When hard times hit, it can seem like God is nowhere to be found. In Where Is God When Hard Times Hit? Bayless Conley examines the life of Elijah, a foundational figure of faith. In the midst of Elijah's distress, God revealed Himself in a most amazing way, providing valuable lessons for anyone in the midst of trouble or hard times. Be sure to request Where Is God When Hard Times Hit? when you give your gift to reach more people with the transformational message of the Gospel.