The Right Motivation
In yesterday's devotional, we saw how we should not give just to get. That should not be our sole motivation. So the question is, "What is the right motivation?"
All we need to do is look at what motivated God to give. It is found in John 3:16,
For God so loved the world that He gave His only begotten Son, that whoever believes in Him should not perish but have everlasting life.
God so loved that He gave. And, yes, God certainly did reap a harvest when He gave His Son. He reaped a harvest of sons and daughters.
You should give out of love and devotion for God. Give because you do not want people to go into an eternity without God, because you love humanity, because you have mercy and compassion for broken, dying people.
That is the right motivation for giving. When you give with that motivation, your reward will be great. God will see that it comes back to you multiplied.
That is a far cry from what many emphasize when it comes to giving today. It appears to me that a lot of people, when they teach on giving, are just pushing people's greed buttons. It seems that the main motivation that some leaders are teaching for people to give is, "Hey, give because God will bless you." And there is no doubt that God blesses those who give. The scriptural promises are clear.
But what about the weightier matters? Remember how Jesus rebuked the Jewish leadership in Matthew 23:23 because they, "Neglected the weightier matters of the law: justice and mercy and faith"?
God looks at the heart. Our hearts ought to be like that of our heavenly Father, who is merciful, kind, loving, and generous, even to the most thankless and evil among us. That is the right motivation.
Visit the Answers with Bayless Conley website for more ways to Connect with God
and
click here to view today's Answers with Bayless Conley broadcast at LightSource.com.
FEATURED RESOURCE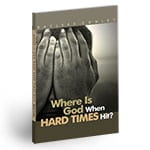 Where is God When Hard Times Hit?
When hard times hit, it can seem like God is nowhere to be found. In Where Is God When Hard Times Hit? Bayless Conley examines the life of Elijah, a foundational figure of faith. In the midst of Elijah's distress, God revealed Himself in a most amazing way, providing valuable lessons for anyone in the midst of trouble or hard times. Be sure to request Where Is God When Hard Times Hit? when you give your gift to reach more people with the transformational message of the Gospel.