The Right Perspective
Yesterday's devotional showed us how money, riches, and wealth are untrustworthy. So the natural question is, "Is wealth a bad thing?"
Let's go back to 1 Timothy 6:17-19 for our answer,
Command those who are rich in this present age not to be haughty, nor to trust in uncertain riches but in the living God, who gives us richly all things to enjoy. Let them do good, that they be rich in good works, ready to give, willing to share, storing up for themselves a good foundation for the time to come, that they may lay hold on eternal life.
I believe God makes it clear that if you are in a position where He has blessed you, you should enjoy it. And do it guilt-free. If you can take the whole family on a 30-day vacation to Europe, go for it.
Just make sure you pay your tithes first. Make sure you are generous to the work of God, but enjoy what God gives you. It is a gift of God to be able to enjoy the fruit of the work of your hands.
God is all for us enjoying whatever measure of prosperity we have. He just wants us to be generous in proportion to our prosperity. He wants us to be ready and willing to give big. To be sowing extravagantly into the gospel and thereby laying up treasure in heaven.
The point is this: Do not just live with your eye on this world. Rather, live with your eye on the world to come. If you do, you will truly be able to enjoy the wealth God gives you.
Visit the Answers with Bayless Conley website for more ways to Connect with God
and
click here to view today's Answers with Bayless Conley broadcast at LightSource.com.
FEATURED RESOURCE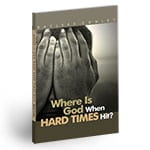 Where is God When Hard Times Hit?
When hard times hit, it can seem like God is nowhere to be found. In Where Is God When Hard Times Hit? Bayless Conley examines the life of Elijah, a foundational figure of faith. In the midst of Elijah's distress, God revealed Himself in a most amazing way, providing valuable lessons for anyone in the midst of trouble or hard times. Be sure to request Where Is God When Hard Times Hit? when you give your gift to reach more people with the transformational message of the Gospel.