You're Not Stuck
1 Corinthians 10:13 says,
No temptation has overtaken you except such as is common to man; but God is faithful, who will not allow you to be tempted beyond what you are able, but with the temptation will also make the way of escape, that you may be able to bear it.
The word temptation in this verse also means test or trial. With that in mind, here are a couple of thoughts to encourage you today.
1. Whatever test, trial, or temptation you are facing today, it is "common to man." That means that you are not the only one who has gone through whatever you are facing. It is comforting to know that others have faced similar problems before us and made it through!
2. God makes a way of escape with the trial or temptation. That means you're not stuck! Before your difficulty ever arose, God designed a way of escape. And that means of escape comes with the problem.
So if you find yourself embroiled in trials, tests, or temptations today, start looking for God's way of escape—it exists. Trust Him to guide you safely through and out of your difficulties!
Visit the Answers with Bayless Conley website for more ways to Connect with God
and
click here to view today's Answers with Bayless Conley broadcast at LightSource.com.
FEATURED RESOURCE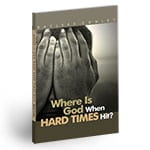 Where is God When Hard Times Hit?
When hard times hit, it can seem like God is nowhere to be found. In Where Is God When Hard Times Hit? Bayless Conley examines the life of Elijah, a foundational figure of faith. In the midst of Elijah's distress, God revealed Himself in a most amazing way, providing valuable lessons for anyone in the midst of trouble or hard times. Be sure to request Where Is God When Hard Times Hit? when you give your gift to reach more people with the transformational message of the Gospel.