Answers for Each Day - Feb. 3

Where's Your Heart?
I want to have you read and think about Mark 12:41-44 today,
Now Jesus sat opposite the treasury and saw how the people put money into the treasury. And many who were rich put in much. Then one poor widow came and threw in two mites, which make a quadrans. So He called His disciples to Himself and said to them, "Assuredly, I say to you that this poor widow has put in more than all those who have given to the treasury; for they all put in out of their abundance, but she out of her poverty put in all that she had, her whole livelihood."
That is quite a picture, isn't it? Jesus sitting opposite the treasury, watching what people put in and how they put it in. I believe Jesus still watches during offering time. He watches how we give, what we give, and why we give. He said, "Where your treasure is, that is where your heart is also."
Notice He calls His disciples over and says, "This poor widow has put in more than everyone else." Why? Because He wanted them to understand that God measures your gift based on what you have.
Some people could give $1,000, and there is really no sacrifice at all. It never touches their life, never causes any kind of change of priorities. While for other people, $10 or $15 is a great sacrifice.
I believe some of the rich people Jesus points to in this passage were giving out of their abundance, but from heaven's viewpoint, they were putting it in with a teaspoon. But this little widow, who put in less than a penny, walked up with a shovelful—everything she had. It got heaven's attention.
Where is your heart when it comes to giving?
Visit the Answers with Bayless Conley website for more ways to Connect with God
and
click here to view today's Answers with Bayless Conley broadcast at LightSource.com.
FEATURED RESOURCE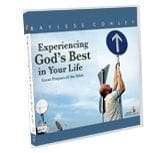 Prayer is communication with God. It is speaking, and it is also listening. And like all communication, prayer is a skill that can and should be improved.
In this six-message series called
Experiencing God's Best in Your Life (Great Prayers of the Bible)
, Bayless Conley teaches you how to grow in your communication with God by examining many of the most powerful prayers in Scripture. You'll learn to touch God's heart and pray prayers that get results! And you'll realize the amazing inheritance God is waiting to bestow on you in response to prayer.
Discover the remarkable difference a better prayer life can make for you!
Recently on Answers for Each Day, with Bayless Conley
Follow us on Facebook
Get Answers for Each Day, with Bayless Conley devotionals directly to your News Feed.
Have something to say about this article? Leave your comment via Facebook below!
advertise with us
Example: "Gen 1:1" "John 3" "Moses" "trust"
Advanced Search
Listen to Your Favorite Pastors