Common Ground
The next "C" of "The Seven Cs of Soul Winning" is common ground. We need to endeavor to find common ground with people. In 1 Corinthians 9:19-24, Paul says,
For though I am free from all men, I have made myself a servant to all, that I might win the more; and to the Jews I became as a Jew, that I might win Jews; to those who are under the law, as under the law, that I might win those who are under the law; to those who are without law, as without law (not being without law toward God, but under law toward Christ), that I might win those who are without law; to the weak I became as weak, that I might win the weak. I have become all things to all men, that I might by all means save some. Now this I do for the gospel's sake, that I may be partaker of it with you. Do you not know that those who run in a race all run, but one receives the prize? Run in such a way that you may obtain it.
In this passage, Paul is talking about the way he ran—the method he used—to reach people for Christ. Verse 22 in The Living Bible puts it this way, Yes, I try to find common ground with everyone so that I might bring them to Christ.
Paul didn't run aimlessly. And like Paul, you have to find a point to relate to people so that you can build a bridge over which the gospel can come.
I encourage you today to find a common area of interest, a common ground, to relate to people in order to share Christ with them.
Visit the Answers with Bayless Conley website for more ways to Connect with God
and
click here to view today's Answers with Bayless Conley broadcast at LightSource.com.
FEATURED RESOURCE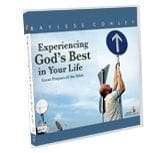 Prayer is communication with God. It is speaking, and it is also listening. And like all communication, prayer is a skill that can and should be improved.
In this six-message series called
Experiencing God's Best in Your Life (Great Prayers of the Bible)
, Bayless Conley teaches you how to grow in your communication with God by examining many of the most powerful prayers in Scripture. You'll learn to touch God's heart and pray prayers that get results! And you'll realize the amazing inheritance God is waiting to bestow on you in response to prayer.
Discover the remarkable difference a better prayer life can make for you!