Uniquely You
Each of us possesses strengths which God has given us. Psalm 18:32 says,
It is God who arms me with strength.
And in Philippians 4:13,
I can do all things through Christ who strengthens me.
And King David said this in 1 Chronicles 29:12,
…in Your hand it is to make great and to give strength to all.
God gives us all strength, yet I believe there are specific things He gives each of us that make you and me strong individually. The book of Psalms says in 33:14-15, From the place of His dwelling He looks on all the inhabitants of the earth; He fashions their hearts individually. In the New Testament in 1 Corinthians 12:27 it says, Now you are the body of Christ, and members individually.
We are collectively the body of Christ, but God has wired us each differently. God has formed our hearts individually. He has put certain deposits in one person that may not be in another person. He has given one person a certain kind of strength that may not be another person's strength.
Here is what I am getting at. I believe there is something uniquely you that gives you strength and character and presence, something that makes you a person to be reckoned with, something that God has put in you. It is a foundation, a seat of strength that He wants to move through in order to influence and to bless others.
Rather than coveting someone else's unique giftings and strength, discover and develop your own. Remember, God individually fashioned you. There is something wonderfully unique about you, through which God wants to bring blessing to others.
Visit the Answers with Bayless Conley website for more ways to Connect with God
and
click here to view today's Answers with Bayless Conley broadcast at LightSource.com.
FEATURED RESOURCE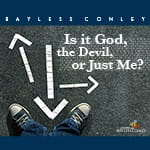 Is it God, the Devil, or Just Me?
To help you know if your thoughts are from God, the devil, or your own mind, we want to send you a copy of Bayless Conley's message, Is it God, the Devil, or Just Me?, as thanks for your gift today. One thing you'll learn is that anything you hear that's from God will lift up His Son, Jesus.
Request Is it God, the Devil, or Just Me? when you give below—and thank you for helping to proclaim a living Jesus to our dying world in 2015. God bless you, and Happy New Year!