Promises, Promises
God has given us His promises because He wants to fulfill them. Be they promises of peace, restoration, healing, or for material supply, we must keep in mind that the Lord would not have made the promise if He did not want to do it.
Here are four thoughts to help you when it comes to experiencing the benefit of God's promises:
1. Find a promise from the Bible that covers your need. Faith begins here.
2. Consider the promises.
Hebrews 10:23 says, Let us hold fast the confession of our hope without wavering, for He who promised is faithful.
And Hebrews 11:11 says, By faith Sarah herself also received strength to conceive seed, and she bore a child when she was past the age, because she judged Him faithful who had promised.
3. Act on the promise, fulfilling all necessary conditions. God is not a respecter of persons, but He is a respecter of conditions.
4. Start thanking God and exercising patience.
Hebrews 10:36 says, For you have need of endurance, so that after you have done the will of God, you may receive the promise.
And Hebrews 6:12 says, That you do not become sluggish, but imitate those who through faith and patience inherit the promises.
If you will do these four things, you are on your way to experiencing the fulfillment of God's promises in your life.
Visit the Answers with Bayless Conley website for more ways to Connect with God
and
click here to view today's Answers with Bayless Conley broadcast at LightSource.com.
FEATURED RESOURCE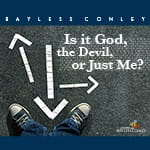 Is it God, the Devil, or Just Me?
To help you know if your thoughts are from God, the devil, or your own mind, we want to send you a copy of Bayless Conley's message, Is it God, the Devil, or Just Me?, as thanks for your gift today. One thing you'll learn is that anything you hear that's from God will lift up His Son, Jesus.
Request Is it God, the Devil, or Just Me? when you give below—and thank you for helping to proclaim a living Jesus to our dying world in 2015. God bless you, and Happy New Year!